Artificial grass is a safe, cost saving alternative to organic, natural grass. Home owners, business owners, government agencies and conservationists are some of the many customers that have purchased synthetic lawns.
The financial, maintenance and environmental benefits make investing in artificial turf an easy decision. For one, you can cut your water bill by as much as 50%. Over the lifetime of a residential size lawn, you could save as much as $20,000 dollars.  For CA residents and other people living in areas that experience drought or water shortages, synthetic lawns can be your solution to navigating complex watering laws that restrict the day, time and amount you can keep your yard hydrated. Violating these rules can lead to numerous fines.
Lastly, artificial grass has evolved to look more and more like the real thing. It's as aesthetically pleasing as real grass, if not more so. It always looks like it was cut yesterday and stays a vibrant and lush green.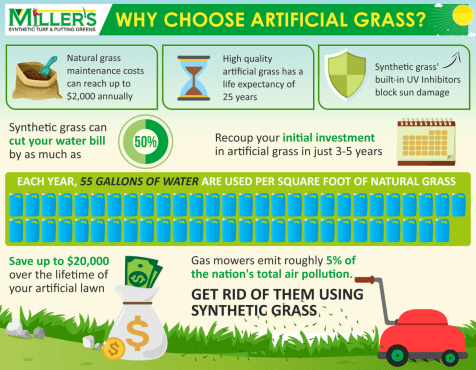 Original infographic provided by Miller's Synthetic Turf.